Back in the 1960s, a group of musicians and majorettes set out to reawaken Sleeping Beauty, better known as the city of Bordeaux. Led by Mr and Mrs Lasbarreres since 1974, the troupe evolved into a musical entertainment group in the 1980s and (finally!) brought an end to the deep sleep of Bordeaux's Port de la Lune.
With the good vintage wine and some of the shellfish that characterize the neighbourhood, we set out upon year after year of entertainment, get togethers, festivities and musical discovery. Sans Soucis! or rather No Problem! became the name of the group with Pascal Barrau as its bandmaster who has been conducting the group since he was 17 years old.
From the Chaban Delmas Stadium to the embankment of the Garonne River, via the Quinconces Square, the Sans Soucis have entertained neighbourhoods and sports matches throughout Bordeaux. We are easy to spot but break away from our traditional varietal wines each August for a short stay under the pine trees in the county of the Landes to participate in the festivities of Luxey (which are now known as the famous Musicalarue Festival). This experience has become the key annual musical and social date for the group. Along the way, a stop in the foie gras region is a must. As such, we take part in the Condom band festival in the county of the Gers, which helps us to diversify our repertoire and attract new musicians.
Our repertoire is currently eclectic. We enjoy watching you dance to our paso dobles, catching a glimpse of your eyes shining during one of our musical pieces, watching you let loose as we perform our extensive repertoire and last but not least we enjoy your appreciation of the musical classics of south-western French bands.
Today, the Sans Soucis take part in many festivities around France and abroad. Our desire to have fun with the public, the friendship that binds our troupe together and our passion for music enriches the group.
But why are we called the Sans Soucis ?
During one of our performances, an elderly couple from the municipality of Saint-Affrique exclaimed
Oh! Those over there, they have no problem!
And there you have it, that is how the group found a name that fits it like a glove!
---
A few points of reference…
Festivities and ferias : Nîmes, La Bastide-Clairence, Istres, Rue Babet (Reunion Island) …
Carnavals : Nice, La Rochelle, San Sebastian (Spain), St Trojan, Saintes, …
Festivals : Luxey, Condom, Bessines, Nueil-Les-Aubiers, Lleida (Spain), Dalhem (Belgium) …
Sports events : FCGB matches (Girondins de Bordeaux) …
Ceremonies: La Bastide-Clairence, Bessines, Mazirat …
Private events …
---
And a long track record of awards at the Condom Festival (Gers county)…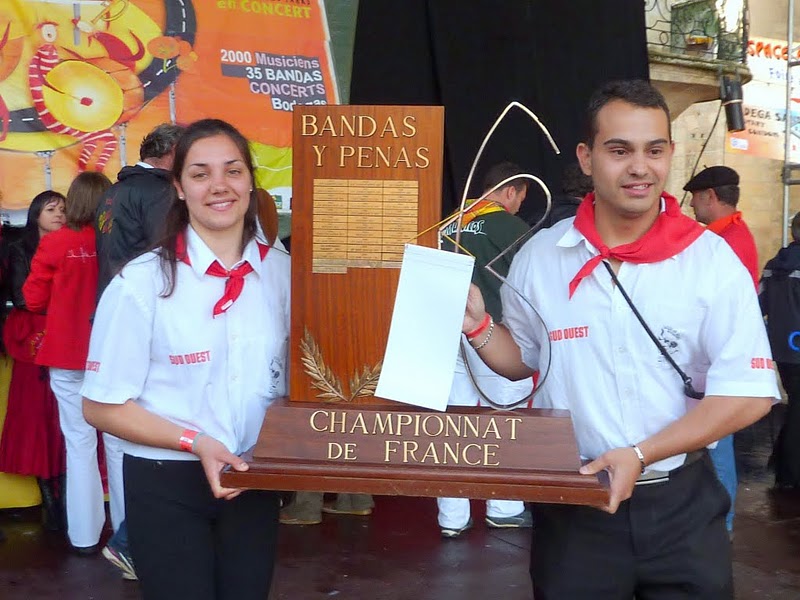 Band Champion of France
1997, 1998, 2001, 2003, 2004, 2010, 2012
First Prize European Band (Golden Palm)
1997, 1998, 2001, 2003, 2004, 2012
Second Prize European Band (Silver Palm)
2010, 2017
Third Prize European Band (Bronze Palm)
1999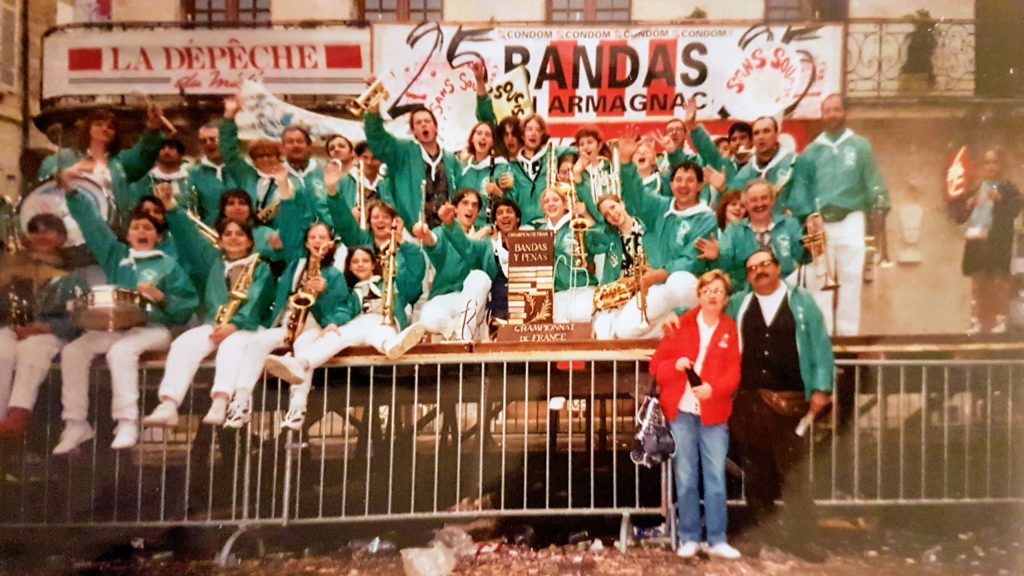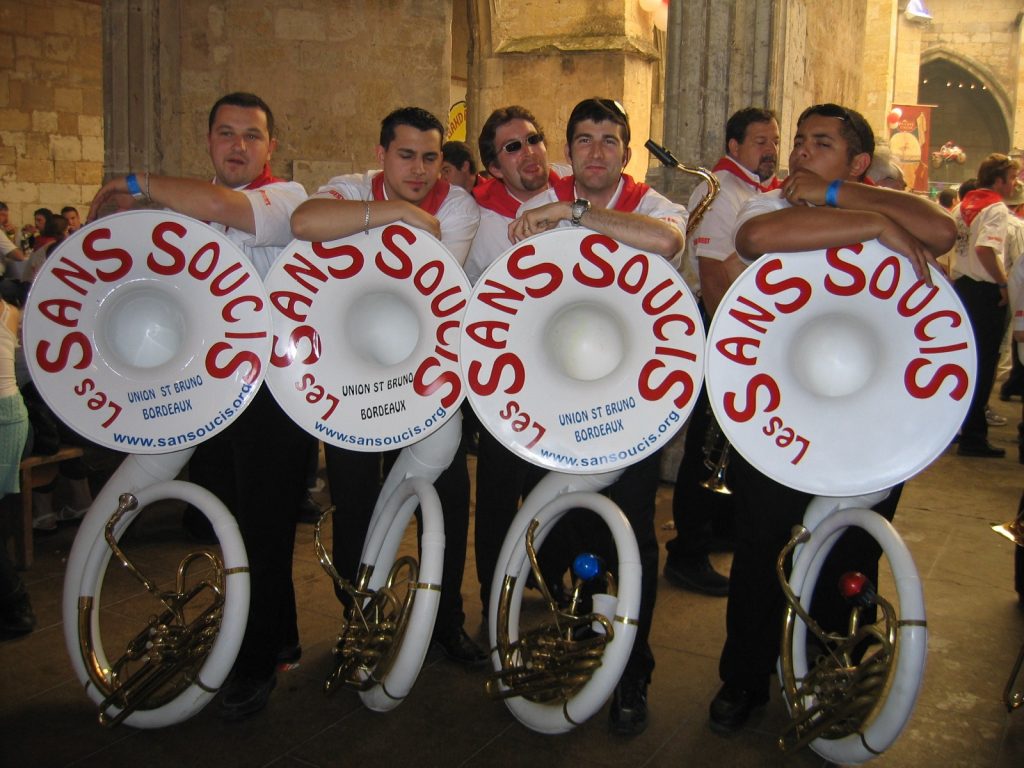 First Prize for Entertaining (Silver Tambourine)
1997, 1998, 2001, 2003, 2007, 2012, 2017
First Prize for Musical Qualities (Golden Trumpet)
2001
Third Prize for Musical Qualities (Bronze Trumpet)
2010, 2017
Traditional Music Prize(Silver Gascon)
2012
Night Entertainment Prize (Moon)
1994, 1995, 2001, 2003, 2010, 2012, 2017